Netstrata is proud to announce that Nina Ashfield-Howell has joined the team. She's a rare find whose passion for strata management is inspiring. From high school, she landed a job with a management company and 18 years later she's still providing exceptional customer service to owners corporations and strata committees.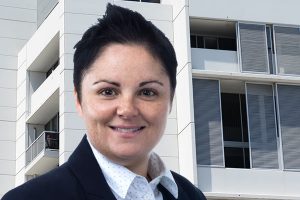 "I love all forms of real estate, architecture and helping people so I wanted to secure a position in the real estate industry," said Nina.
"At the time I started looking, a great opportunity as a trainee strata manager arose in a local company close to where I lived so I secured the position and have never looked back."
When asked what she believes makes a great strata manager, Nina was quick to respond.
"A great strata manager must have an eye for detail, have a sound knowledge of all the various forms of legislation and regulations. They must also be able to handle pressure, be decisive and confident to make decisions, and ultimately be able to empathise with their clients," she said.
Nina, however, is under no illusions that the role can pose interesting challenges. She acknowledges that the job can be extremely demanding at times but she believes that if you prioritise your work load effectively you can not only meet the expectations of all your clients, but exceed them.
"Overall though, I enjoy the technical aspect and applying the legislation effectively. I also very much enjoy helping people and guiding committees to make informed decisions which are in the best interests of all owners as a collective group," she said.
When the time came for a new opportunity, Nina was very careful as to which company would most appreciate her exceptional skills, knowledge and experience.
"Strata Management is my career and I wanted to work for the most advanced strata management company in the industry."
"Netstrata also care about people and are passionate about managing buildings. They encourage employee participation and provide excellent regular training which allows us to be on top of our game. They also are innovative and built their own fully integrated strata management software which is extremely user friendly."