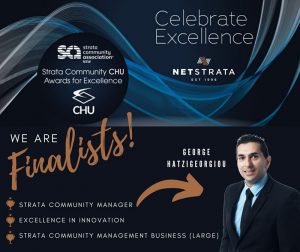 We are thrilled to announce that Netstrata have been nominated in 3 categories for this years SCA NSW Strata Community CHU Awards!
The award ceremony will be broadcasted live with our finalists in attendance, and socially distanced, with everyone else engaging in the evening virtually to celebrate the finalists and winners of the 11 award categories of 2020.
Wishing all category finalists the best of luck, and bring on the socially distanced festivities on Friday 23rd October, 2020!